.:Basis:.
Name:
Ame ga Fu~tsu Zetsubou
Meaning:
Raining despair
~
Nicknames:
Pronounced:
Ah-me gah Fuu-sue Zeh-sue-bou
Gender:
Male
Age (Human):
17
~
Sexuality:
Species:
human
Clan:
.:Appearance:.
Human Eye Color:
Emerald Green
Hair Color:
Pale blonde
Figure:
Small decliate and fragile
Extra Details:
As normal as any human child would be except....he's gifted. Ame can see things others can't even imagine. He can see the flow of energy between people grab it and use it. Changing the path people are walking on making a person who is ferious happy and various other things, as well as getting glimpes of events from solid objects seeing the past or the future depending on what's going on around him.
.:Organization Affiliation:.
Organization Name:
None
Rank:
None
.:A little Deeper:.
Personality:
Ame is timid, very timid and easily frightened, he spends a lot of time crying not that his Master cares. Ame is a human taken at a young age in a small rural town by a Vampire. That vampire has never changed him but has forced him to be everything he never once thought he'd be. A sex slave, abuse and used for feeding although the man has not killed him yet....Ame can honestly say he knows the pain of having his viens tapped.
Backstory:
Ame was born to a poor farmer family in a small rural village. The Vampire lord Yosha no nai masuta demanded high taxes out of the people around him and none could fight him. When his parents could not pay the vampire lord came down to collect in person. He would have killed them all but took a fancy to the small boy cowering in the corner behind his mothers skirts and smirking decided that the boy would be payment in full.
His parents unable to fight him agreed and his mother shoved him to the vampire who took him using him for whatever his pleasure was. Ame has many times found himself knocked to the cold unforgiving ground if his master is angry with someone it doesn't have to be him.
Ame is running out of time though now, angering his vampiric master more often then not because there are times when he just collaqpses. Bitten and drank from too many times from Yosha no nai Masuta Ame's body has weakened greatly without serious help the doctors on Yosha's staff had told him Ame would be luckly to make it the rest of the year...they would be surprised if he makes it to eighteen let alone.....to twenty one.
.:Extra's:.
Human Image(s):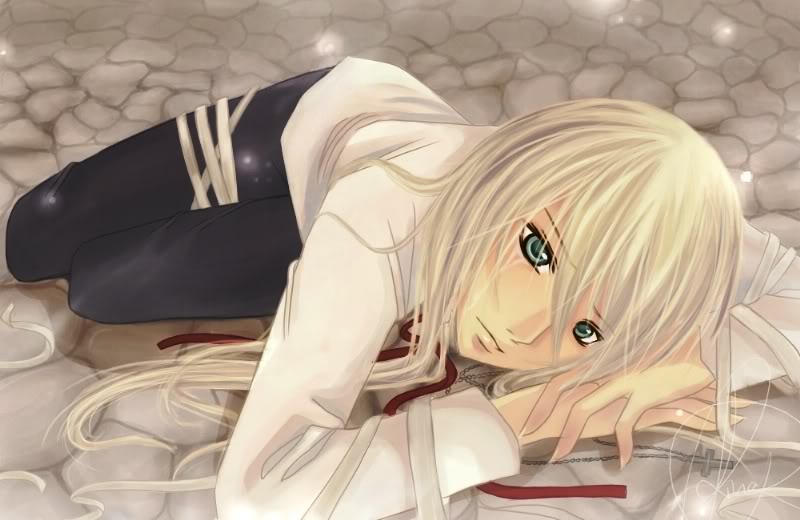 ~
Favorite Saying:
I want to die.....but he won't let me.
~
Theme Song:
It's not me its you.~ Skillet
~
Link:
https://www.youtube.com/watch?v=JWofQTAhUKA&feature=related
~
Lyrics:
Let's get the story straight
You were a poison
You flooded through my veins
You left me broken
You tried to make me think
That the blame was all on me
With the pain you put me through
And now I know that
It's not me, it's you, it's not me, it's you
Always has been you
All the lies and stupid things
You say and do, it's you
It's not me, it's you
All the lies and pain you put me through
I know that it's not me, it's you, you, you
It's not me, it's you, you
So here we go again
The same fight we're always in
I don't care so why pretend?
Wake me when your lecture ends
You tried to make me small
Make me fall and it's all your fault
With the pain you put me through
And now I know that
It's not me, it's you, it's not me, it's you
Always has been you
All the lies and stupid things
You say and do, it's you
It's not me, it's you
All the lies and pain you put me through
I know that it's not me, it's you
Let's get the story straight
You were a poison flooding through my veins
You're driving me insane
And now you're gone away
I'm no longer choking
From the pain you put me through
And now I know that
It's not me, it's you, you, it's not me, it's you
Always has been you
All the lies and stupid things
You say and do, it's you
It's not me, it's you
All the lies and pain you put me through
I know that it's not me, it's you, you, you
(It's not me, it's you)
It's not me, it's you, you
(It's not me, it's you)
It's not me, it's you, you
(It's not me, it's you)
It's not me, it's you, you
(It's not me, it's you)
It's not me, it's you