.:Basis:.
Name:
Seinaru Mamorigami
Meaning:
Sacred Guardian Angel
~
Nicknames:
Seina
Pronounced:
Say-nah Ma-more-ee-gah-me
Gender:
Male
Age (Human):
19
~
Sexuality:
gay
Species:
Angel arc-angel
Clan:
Celestial Kingdom
.:Appearance:.
Human Eye Color:
Gray green (a pale silvery green)
Hair Color:
Blood red (soo dark a red it looks black until the light hits it)
Figure:
Lean and athletic
Extra Details:
Flight, incredible agility the abiliy to sense demons/dark enegy. Feather magic he can cast increbdily complex spells using his feathers and cause his golden wing to become almost crystaline in apperance and transulsant. Instant charisma with any animal he's often surrounded by them. The abiility to speak an al language and he can form a large cross like sword.
On his left hand spiraling up his arm is a feather like set of markings a birthmark that covers his entire arm upto his shoulder.
.:Organization Affiliation:.
Organization Name:
Rank:
.:A little Deeper:.
Personality:
Seinaru is a kind and gentle man, who has a strong sense of justice. Being an angel he can walk into a fight and it will disolve unless they are evil through and through.
Seinaru is the sort who will risk his own life for the sake of a friend injuring himself greatly without a second thought to save another even if everyone believes it's a lost cause he's self scarficing and once you become important to him incredibly loyal.
Backstory:
To be shown in game play
.:Extra's:.
Human Image(s):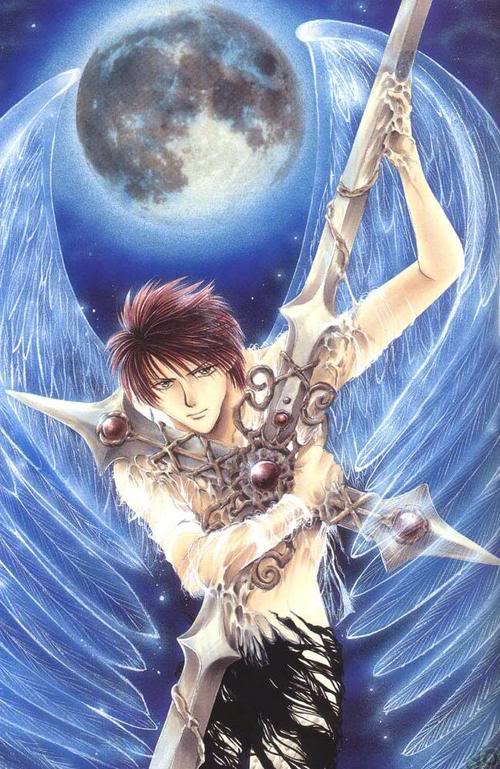 ~
Theme Song:
~
Link:
~
Lyrics: