.:Basis:.
Name:
Yancha Ōkami  やんちゃウルフ
Meaning:
Mischievous Wolf
~
Nicknames:
Yan
Pronounced:
Yan-cha Ooh-kah-me
Gender:
Male
Age (Human):
5
~
Sexuality:
Unknown
Species:
vampwolf
Clan:
daywalker
.:Appearance:.
Human Eye Color:
silvery white
Hair Color:
Black and silver mixed
Figure:
small and lean he's a kid
Extra Details:
All of the normal vampire traits as well as the ability to shift in a wolf. As to his actual vampire gifts they have not developed yet.
.:Organization Affiliation:.
Organization Name:Rank:
.:A little Deeper:.
Personality:
Yan is as his name indicates full of mischief being a pup despite his rough start. Beaten to near death, starved and broken he should not have bounced back but he did thanks to Iki. To him Iki is mom and he treasures her but he has so many bad habits things he was taught when he was first born because they were 'funny' to his birth parents..........that Yan gets into trouble often.
Backstory:
Yan doesn't really remember much about his birth parents what they look like who they are only that they taught him to do things that aren't good.........like goosing men at random in his puppy state. It gets him into trouble that Iki always has to bale him out of. Yan isn't a bad pup just mischievous and it shows.
What he does remember is a man and woman screaming at him in rage and beating him to a bloody pulp, breaking his legs his ribs making a real mess out of him and leaving him for dead in a storm drain. Whining lowly thinking he was going to die a girl saved him and took him in giving him her blood and sheltering him, to Yan she became 'mom' and although he gets into trouble he tries really hard to listen to her afraid that one day she'll the same although as he gets into trouble he learns that she's not going to ever do that to him. And all because he was what the angry voices declared a 'Runt'......
.:Extra's:.
Human Image(s):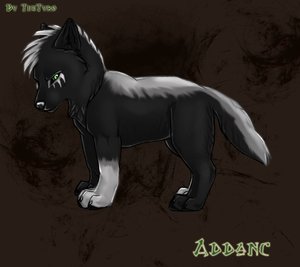 ~
Favorite Saying:
~
Theme Song:
~
Link:
~
Lyrics: