.:Basis:.
Name:
Kyoui Daichi
Meaning:
Burning Earth
~
Nicknames:
Kyo
Pronounced:
K-oi Die-chee
Gender:
Male
Age (Human):
~
Sexuality:
Species:
Werewolf
Clan:
.:Appearance:.
Human Eye Color:
Golden
Hair Color:
Crimson Red
Figure:
Lean and built
Extra Details:
He is a werewolf all of the normal attrubites plus the ability to control his shifting at will. Increased healing and an oddity.....Kyoui has the ability to control all aspects of fire...where his brother is ice and snow he is fire....and magma...straight up.
.:Organization Affiliation:.
Organization Name:
Rank:
.:A little Deeper:.
Personality:
Kyoui is a trouble maker through and through if he can find a way to get into trouble he will. Where Kantai is pure and inncoent he is fire and trouble the brothers could not be any different.
Backstory:
Kyoui remembers because he was older then his brother. They had been going somewhere in the car when it broke down in minus 32 degrees weather. His father hit and icy patch and the car went off the road. Wounded and despite the frigid cold outside they bundled up himself and his brohter up and went hicking trying to find somewhere warm to spend the night.
They were attacked though in the middle of the glen, when a wolf appeared savage and feral. It attacked killing his father who had given his brother to his mother and told her to run. She did getting to a tree and shoving both himself and his younger brother into the hollow of a tree. At one his brother was even more defensless then he was so he shifted around pushing Kantai back into the tree a bit more and looked out hearing his mother screaming in the horrible gail for winds.
Then the wolf was there trying to get into the small hollow they were in and he closed his eyes yelping when he felt the wolf bit him and closed his eyes his leg had been a bit too far out there. But he closed his eyes and turned his head away towards his brother and then the wolf yelped as if in pain and ran off.
They had stayed like that but Kantai always did this and he couldn't force his brother to put it back on as Kantai took off his jacket and placed it around him around his wounded leg and then climbed out of the hollow of hte tree leaving him in there but his leg hurt too much to move it and get Kantai who started calling for there mom and dad not understandign that they were dead after a while he started crying and the moment he did the winds picked up even more force.
Kyoui had huddled into the tree not sure what was going on but he blacked out after a while. Time passed and then a man with long black hair and wearing a half face mask had him tucked into him carrying both him and Kantai bringing them to an orphanage....but Kyoui didn't stay there he knew what happened he was changing into a wolf and not wanting to hurt Kantai as the change was already takign place that night Kyoui took off into the night trusting that Kantai would be safe in the orphange....
.:Extra's:.
Human Image(s):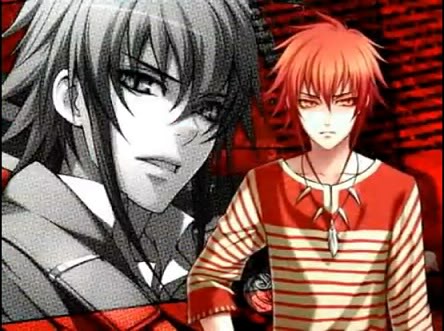 ~
Favorite Saying:
~
Theme Song:
Fear by Distrubed.
~
Link:
https://www.youtube.com/watch?v=h_OqtwVbjPY&feature=related
~
Lyrics:
Fear something Again!!
HUH, HUH, HUH, HUH, HUH, HUH!!!!!! (4x)
Reject
Are you no one
Feel you nothing
You know I'll bet you think
You have a good reason to be living
In the limelight of the fortunate ones
you're too weakened by the poison
That they feed you in the living lie
They don't believe you
Call to no one
Trust in nothing
Little impotent one
I don't wanna be x4 innocent, you know
I don't wanna be x3 I dont want to let them hypnotize me
Punk ass, are you listening
Can you hear me or are you deaf and dumb to my language
Do the real words seem to hurt you
Well put em' up motherfucker
you're gonna feel it
When I stamp it on your forehead
So you will never forget
That you're a reject
And you're no one
And you're nothing
Little impotent one
I don't wanna be x4 innocent, you know
I don't wanna be x3 I dont want to let them hypnotize me
I don't wanna be x3 I don't want innocence, you know
I don't wanna be x3 I dont want to let them hypnotize me
Fear awaken
Go with it now
And let it overcome you
Fear awaken
Your mind is racing
I don't understand why you don't like me
Why don't you like me?
Am I so different from you
Now does it scare you that I'm able to discern
What to love and what to burn
I'll add your fuel to the fire now
Stand back, brother take your hand back
Leave it and I might crack
More than a smile or two you see
You don't judge what you don't understand
You can't deny what has been given to me
I don't wanna be x4 innocent, you know
I don't wanna be x3 I dont want to let them hypnotize me
I don't wanna be x3 I don't want innocence, you know
I don't wanna be x3 I dont want to let them hypnotize me
Fear awaken
Go with it now
And let it overcome you
Fear awaken
Go with it now
Go with it now
Your fear awaken
Go with it now
And let it overcome you
Fear awaken
Your mind is racing
Erasing now
Hey reject
Are you no one
Feel you nothing
You know I'll bet you think
You have a good reason to be living
In the limelight of the fortunate ones
You know