Basics
Full Name:
Hina Kastu
Meaning of Name:
"Day of Victory"
*Nickname:
*Alias(es):
Sex:
Male
race
Human
Human Appearance
Human Age:
17
Human Eye Color:
green/blue
Human Hair Color:
dirty blond
Type of Build/Body:
small, lithe
Height:
5'8
Weight:
108
Distinguishing Marks:
Image(s) For character: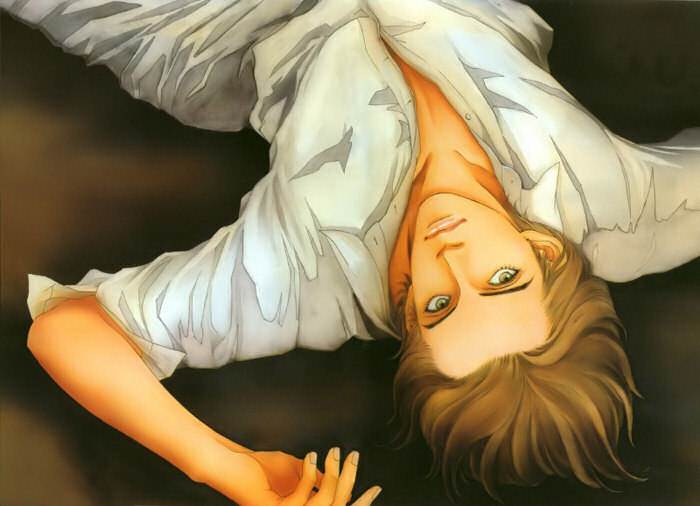 Attitude/Personality:
Hina Kastu is a shy youth who seems to always be in his own world if not stuck in a book. he only cares about his shop. he avoids people if it can be helped but some times he takes moods where he only wants to be around people but not often. He is a kind and friendly person to those who are friendly with him. he has always wished for a friend and some one to share his life with. even if he is shy hina is not afraid to speak his mind and will not shy away form a challenge but most form every thing else.
*Talents:
black smithing, cooking, singing, magic tricks,
Organization Affiliation
Organization Name:
N\A
Class:
N\A
Abilities
Spells:
 N\A
*Special Abilities:
shell
when hina uses the power of shell all types magical energy/power his draw to him. like area effects would not effect him or any spell throw at him. he can not draw the magic out of living thing only the magic around and use by the living thing that exits they body[example use magic to make fire if he chose to the fire would be be put out  in front of he of a split second ]. he can not use this power to kill a living thing that is depended on magic to survive but if the living thing stays around him for to long while he uses this power it can die form lack of magic substance. [like something that eats magic can die from not eating if it is around him for to long] this is a power that he dose not know about  the magic energy that is draw to him is stored inside of him he can use this energy to form a shied of swirling energy around him. this acts like a shield protecting him form magic attacks and stoping some projectiles like magic bullets arrows he can not stop bullets that are not made of magic yet he will get stronger has he grows [ like if a spell that throws a rock at high speed. the magic that made the rock move would be taking away for the rock, but that dose not stop the rock. that's where the shield comes in it can stop the rock] this shied incircles in a 360 degrees have no weak spots their are three ways around this one the shield has a limit it only last for five minutes after he has use the magic he took if no new magic is taken, however hina can draw for the shield making it last for two minutes longer but this makes the shield weaker when it enters the last two minutes in the last to minutes the shield can still stop pericing and slashing weopans. the second is pericing the shield with a object that stops magic this weapon can not be magic based because if it gets with in five feet of hina the magic would be draw in to the shield and make it stronger. shell extends out ward five feet in all directions. the thrid is that higher up magic can break the shield like a spell form a master witch can over power this shield. the reason is because hina would absorb the magic it would over power him causing him to past out. the shield would break.
.:Weapons Information:.
Name:
Type:
close ranged two handed weapon/long ranged
Description:
this gun hold fourteen bullets in its revolving clip the clip is interchangeable between rifle and shotgun ammo simple flip the release switch and put in a new one. the gun its self his shaped like a cross and has a scope on it for long ranged attacks this scope has a range of 100 yards and can be adjusted to any thing in between. this gun is gold painted and is 11 inches long  and weighs five pounds when loaded it has groves in the  of the gun giving it a little more range for its shotgun rounds but not much      
Strengths:
when using shot gun ammo this weapon is deadly with aim and can blow a mans heart out of his chest at 40 feet and with rifle ammo can blow a mans head off at 100 yards  
Weaknesses:
the range on this weapon when using the shotgun rounds is only effective with in 40 feet any thing further is a no go with these rounds. the rifle rounds only go to 100 yards even if the scope goes further  
Abilities:
N/A  
Image(s):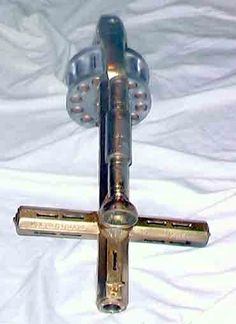 History:
Childhood Arc: Hina Kastu has had a lonely childhood with no friends or family members he was always different form others.He lives in his family shop in Toyama on the foot hills of the alpines. his father Aadolf Aatami with mean "strong wolf man" who is a werewolf he came form Germany. after fighting in a clan war he moved to Toyama and meet his mother Hikaru Kastu which mean "shinning brilliance of victory" the owner of the shop at the time. his father took him in as his own after his mothers death.  The only reason he is a live to day because his mother made his father promise to take care of him when her dying breath. At three years of age his father left alone in the world only caring enough to teach him about Japanese sword making werewolf culture and taking him to school. Hina learned to take care of himself at a very young age learning to cooking, cleaning, and other thinks like that. He spend most of his child hood years learning black smithing and taking care of himself.
Pre teen Arc: his pre-teen years were not kind to him either. After basically being left in this world by is his only parent he found his escape in books learning every thing he could he made it his goal bring his mother back back to life. After searching years for answers and coming up nothing.  
Present Arc: as of today he keeps up a normal appearance going to school and dealing with what few people came up to the shop. and still searches for the answer today.